Author. Journalist.
TV Show Host.
Podcaster. Essayist.
I'm Denene Millner.
Mom. Daughter. Author. Publisher. Giddy.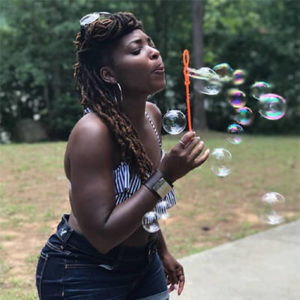 A Yankee from New York with southern belle in my soul. I'm Badu "clever" and 11-cheese mac and cheese (from scratch) and the best French pear martini you ever had. I adore my babies and my funky/fly/fresh family. I'm addicted to Black romance movies and of course, good books. And I super heart Romare Bearden and August Wilson, gummy bears and Black children's stories and especially my Goldendoodle, Franklin. He's flyer than your dog on its best day. It is what it is.
I'm 100 percent intelligent Black child—equal parts smart and down-to-earth and wit, with a smidge of snob (used only in case of emergency). The rest of the time, I'm all sour apple Blow Pops and supernovas.
You should know, too, that I'm a lover of my people. We're colorful. Hella funny. Overcomers. Creators. Herculean. Soldiers. Every last one of us when we put our minds to it. And I'm proud to be counted among us. I've staked my name—my career—on it. It's in my DNA. All up in my bones.
I'm sure of my talent—know my worth. What I do with words is pure energy—a gift from the universe. I understand the game. I love it strong. Who am I to waste this?
YOU MAY HAVE SEEN ME OR MY WORK ON
INTRODUCING DENENE'S LATEST NOVEL
One Blood
ON SALE 9/5/23
For the first time in a book publishing career stretching the span of a quarter century, Denene Millner, the New York Times bestselling author of 31 books, will debut her first solo adult novel, One Blood, an epic story about the connection between three women: a birth mother who had her child taken away; the adoptive mother who raised that child; and the woman that child becomes. This sprawling story, spanning sixty years, is an opus to adoption, birthing, Black healers and babies and motherhood and womanhood, and how each of these things can either destroy us or set us free.
A sprawling multigenerational tale. Heartbreaking, hopeful, and resilient. A masterpiece."
– Tara M. Stringfellow, bestselling author of Memphis
Monique Patterson, vice president and editorial director at St. Martin's Press, preempted North American rights to the book from Victoria Sanders at Victoria Sanders & Associates, based on a partial manuscript of just 44 pages and a synopsis. Publishing director Suzie Dooré of The Borough Press also pre-empted for UK and Commonwealth rights (excluding Canada) in a six-figure deal. To date, the book has also sold in France to Cherche Midi, Germany to Goldmann Verlag, Hungary to Libri Kiado, Italy to Harper Italia and Spain to Planeta. One Blood makes its U.S. debut in September 2023.
Said Dooré: "One Blood is going to be a hugely important book – that was clear from the first page. Epic in scope, beautifully written and, frankly, urgently needed, it's at once an intimate story of three women and an examination of Black American womanhood, motherhood and adoption. Denene is an extraordinary talent and a truly inspirational woman—she had most of the team in tears when we all met on Zoom!—and One Blood will be an instant classic."
Denene Millner Books is a love letter to children of color who deserve to see their beauty and humanity in the most remarkable form of entertainment on the planet: books.

A Seat at the Table is the first talk show that gives voice to African American women and considers their diverse backgrounds, perspectives, and challenges.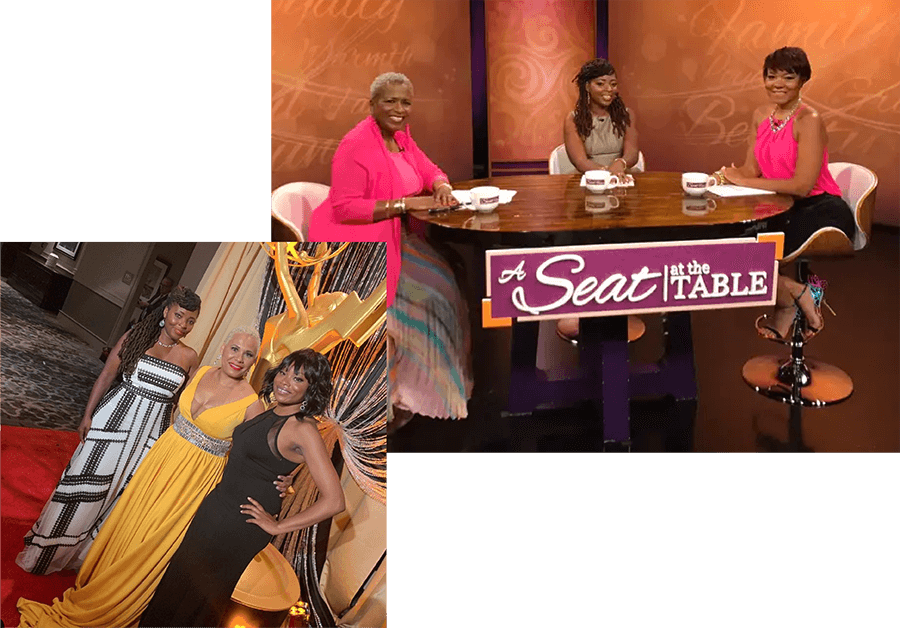 Though some would argue that ALL women have similar experiences, there are realities of the Black woman's daily life that are entirely unique. A Seat at the Table breaks through the silence and gives African American women a voice— a loud and clear voice.
New York Times bestselling author Denene Millner dives into the beauty and humanity of blackness. We take one word like BLACK, BEAUTY, or LOVE, and we break down the many ways that word applies to the African American experience.
New Book Releases on the Horizon

September 28, 2022

Denene's new novel is set to be released in September of 2023, and another Denene Millner Books title has been set for a Fall 2024 release. Check back soon for more details on both!

CHECK BACK SOON!
German Edition of ONE BLOOD Released!

May 17, 2023

Willkommen in der Welt, ONE BLOOD! That's "welcome to the world" in German, baby! What's the reason for the German welcome, you ask? Well, today is the official pub day for the German edition of ONE BLOOD—the first of eight publishing dates for my new novel. That's right, ONE BLOOD will be published in eight […]

READ MORE
Welcome to DeneneMillner.com!

May 12, 2023

How crazy is it that after all these years as a writer—almost thirty-seven, to be exact—here it is, a website dedicated solely to Denene Millner. Isn't she lovely?  Why am I just getting here? Well, I am an author, journalist, blogger, TV show host and podcaster who came to social media as a popular blogger; […]

READ MORE
Psalms For Black Girls: Bruh, Marriage Is No Longer Relationship Goals For Black Women

(Originally published on madamenoire.com) The day a judge made my divorce final, I showed up to the courthouse in a bright yellow dress, face full of Mented cosmetics, locs freshly twisted, smelling like grapefruit Jo Malone, because this was, next to the birth of my babies, supposed to be the happiest day of my life—a […]

READ MORE
Contact
Victoria Sanders
Victoria Sanders & Associates, LLC
440 Buck Road
Stone Ridge, N.Y.  |  12484  |  USA
(212) 633-8811